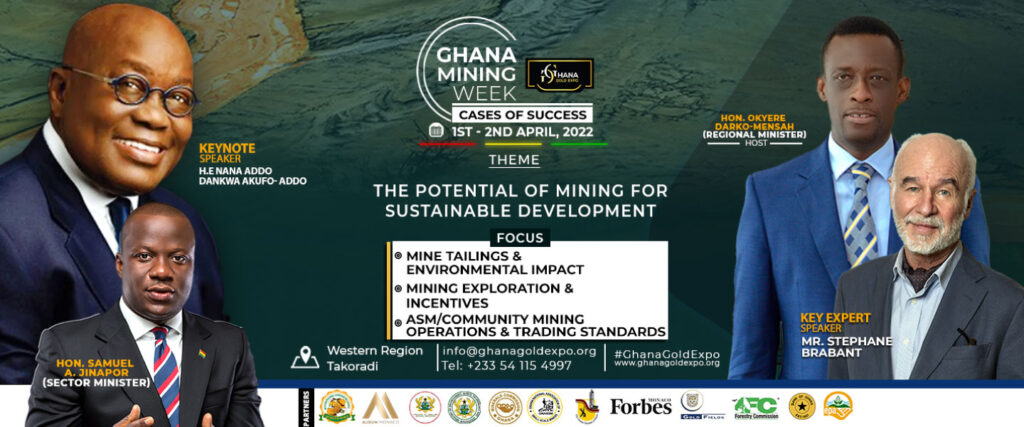 4th Edition of Ghana Mining Expo 2023 Week in Takoradi! 
🗓️ July 13-15, Takoradi, Western Region
🔬 Theme: Sustainable mining resources development and well-being in mining communities
Experience the future of mining at the Ghana Mining Expo 2023!  Discover innovative technologies, engage with industry experts, and explore sustainable practices that drive economic growth while preserving our environment.
Highlights:
🎉 Grand Opening Ceremony
🎙️ Keynote address by H.E Nana Addo Dankwa Akuffo-Addo, President of the Republic of Ghana
🌟 Plenary sessions on responsible mining and community well-being
🔍 Networking opportunities with industry leaders and sponsors
🏆 Commemorative Gold Coin issuance
💎 Exclusive display of cutting-edge mining solutions
🍽️ Indulge in a 24k gold dinner experience
Be part of the movement towards sustainable mining practices! Mr. Hubert Kyei-Mensah, Managing Director of H. A Exploits Limited Company, and his team were at this prestigious event.
Don't miss out on this extraordinary opportunity! Follow #ha.explots for updates and join us in shaping the future of mining in Ghana.
👉 For more information, visit www.ghanagoldexpo.com
#MiningExpo #SustainableMining #MiningResourcesDevelopment #CommunityWellBeing #GhanaMining #Takoradi #WestAfrica